AI – Your new personal assistant?
We are thrilled to invite you to an interactive and fun engagement session focusing on how generative AI can support you and your business.
We explore three of the available tools – Midjourney, GPT 4, and Adobe's Firefly. Elin Skogh Olin and colleagues share inspiration and insights through practical and fun exercises. Enjoy a delicious breakfast and grasp the opportunity to meet new and interesting people in our beautiful offices at Stortorget 9.
Date: Tuesday 14th of June | Adress: Stortorget 9, Malmö, 4th floor | Language: English
Generative AI technologies, like ChatGPT and Midjourney, are developing at warp speed. This time last year neither was available to the public and today they are helping many professionals and private enthusiasts be efficient, productive, and creative. These solutions will impact the way we live, work, and do business - whether we want it or not.
What will happen during the session?
We will have stations which explores different aspects of these technologies, e.g. image creation and manipulation, coding, project management or research. But it's not all work and no play! The session is designed to be entertaining and enjoyable, with interactive activities, hands-on demos, and lively discussions. Get ready to have a blast while learning something new!
Who is the session for?
It doesn't matter what previous experience you have:
If you've never tried it – come and get informed and inspired.
If you are a skilled user – come and share your knowledge and help your peers grow.
If you are a sceptic – come share your thoughts on the complexity and risks of these solutions.
There is a limited number of participants. So, hurry and sign up!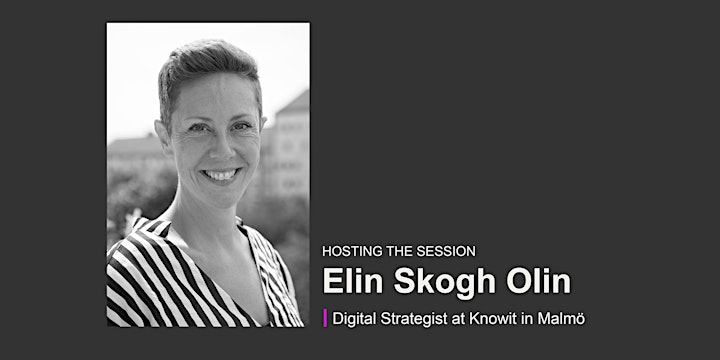 About the host
Elin Skogh Olin is a Digital Strategist at Knowit Experience in Malmö. With a love for technology, business, and people, she transforms companies' digital presence and organization.
Till toppen